Olaf: Some people are worth melting for.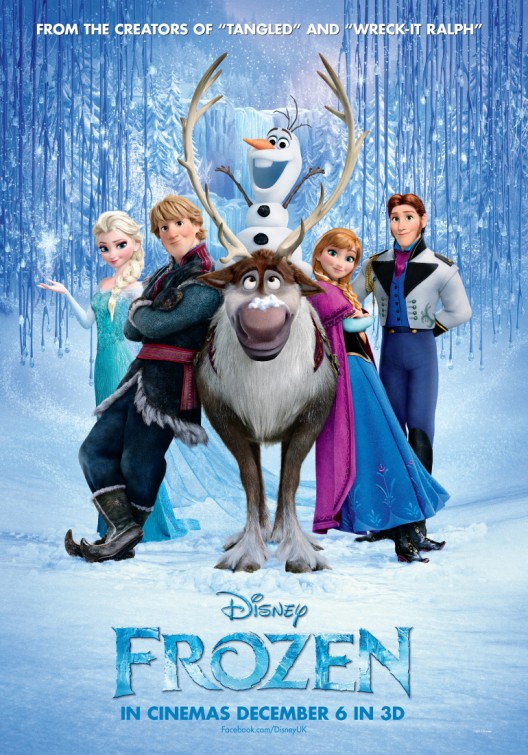 Director:
Chris Buck
Jennifer Lee
Producer:
Peter Del Vecho
Screenplay:
Jennifer Lee
Story By:
Chris Buck, Jennifer Lee & Shane Morris
Cast:
Kristen Bell as Anna
Idina Menzel as Elsa
Jonathan Groff as Kristoff
Santino Fontana as Hans
Josh Gad as Olaf
Alan Tudyk as the Duke of Weselton
Ciarán Hinds as Pabbie the Troll King
Chris Williams as Oaken
Maia Wilson as Bulda, a troll
Jack Whitehall as a Trol
Maurice LaMarche as Anna and Elsa's father
Music by:
Songs by:
Robert Lopez and Kristen Anderson-Lopez
Review:
Frozen is Disney's latest animated movie and  is loosely based on Hans Christian Andersen's fairy tale The Snow Queen. It opens to a prologue introducing us to Elsa, Anna and Elsa's powers. We see how she hurts her sister and then lives in seclusion until Coronation Day, where everything goes wrong.
The movie is brilliant. I'm a sucker for musicals and the movie being animated was the icing on the cake. This movie will become an instant classic; a movie that people will return to because they enjoyed it so much, a movie that people will watch again and again, a movie that will be added to people's 'Sick Movie List'. After a couple of okay-ish movies and a few hits and misses, Disney is finally back in the game and proves to be the competition it once was for Pixar, which is currently dominating.
In Frozen, all the magical elements are front and centre. The characters are loveable and such that you'd remember them after the movie gets over. The songs written by  Robert Lopez and Kristen Anderson-Lopez are just magical. One would want to sing along and get up and dance.
The animation was obviously amazing and the voice cast was phenomenal too. This may be another disney princess movie, but it doesn't depend on her getting true love's kiss, which in my opinion was outdated 10 years ago. This movie has everything that made disney movies great many years ago with addition of a twist. It was nice to see that Kristoff doesn't always come to the rescue and he needs Anna's help in succeeding sometimes.
Frozen brings 'Disney Magic' back to the screens, and for a fan like me, thats beautiful. Frozen is probably the best animated musical to come out of the Disney studios since the untimely death of Howard Ashman. Frozen is a movie to melt your heart.
And make sure to watch the new Mickey Mouse cartoon entitled "Get a Horse." And do make sure it is in 3D, it really is funny and brilliant.
Side Note: I'd like to see them make a Broadway musical out of this!
Final Verdict:
9/10